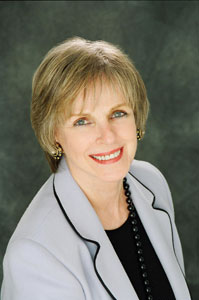 A 1997 winner of the prestigious Gerald Loeb Lifetime Achievement Award as well as the 1995 Award for Distinguished Business and Financial Journalism, Newsweek contributing editor Jane Bryant Quinn has been praised for her "overall contribution to consumer journalism" and "for consistent presentation of unique information in a thoughtful, concise manner."
Quinn was named one of the "100 Most Influential Business Journalists" of 1997 by The Journalist and Financial Reporter newsletter, which noted, "In an increasingly competitive field, she continues to lead the pack." The World Almanac has named her one of the 25 most influential women in America.
Writing on finance and money management for the magazine since May 1978, Quinn says that she tries "to make the column as useful as possible." "If something can go wrong with new financial products," Quinn says, she tries to find out "what it is likely to be."
Quinn also writes a regular column for Good Housekeeping. She has reported on business for television broadcasts such as "CBS Evening News with Dan Rather," the CBS morning news and other nationwide programs. In 1988, she hosted "Take Charge," a television show on personal money management produced by KQED in San Francisco for the Public Broadcasting System. In 19797, she co-hosted "Beyond Wall Street," an investment series that also ran on PBS. In 1995, she helped develop the industry's leading financial planning software program, Intuit's Quicken Financial Planner.
Quinn has received an Emmy Award and a Janus Award for her business reporting on television. She is a two-time winner of the John Hancock Award for Excellence in Business and Financial Journalism (1992, 1995) and a three-time winner of the National Press Club's Consumer Journalism Award (1984, 1982 and 1981). She has numerous other awards to her credit.
Quinn's book, "Making the Most of Your Money" (Simon & Schuster, 1991), landed on The New York Times best-seller list. An updated edition was published in 1997. Reviewing the book, Forbes editor James Michael noted that Quinn "manages to be reader-friendly and sophisticated on everything from buying homes and insurance and securities to dealing with problems of divorce, retirement and education." Her previous book, "Everyone's Money Book" (Delacorte Press, 1978), was Book-of-the Month selection and a national best-seller. Her book, "A Hole in the Market" (The Whittle Co., 1994), examined the effects of the economy on the baby bust generation.
From 1974 to 2001, Quinn wrote a twice-weekly newspaper column syndicated by The Washington Post Writers Group. Earlier, Quinn was co-founder, editor and general manager of McGraw-Hill's "Personal Finance Letter." She was a reporter, then a co-editor of the consumer publication, "The Insider's Newsletter," formerly published by Look magazine.
Quinn is a magna cum laude graduate of Middlebury College in Vermont. She discussed her career with University of North Carolina journalism professor Chris Roush in an interview on Oct. 4, 2005. What follows is an edited transcript.
Q: How did you first get interested in journalism?
A: I guess that was mostly lost in the midst of time. I didn't know any reporters. I didn't know anyone in journalism. I didn't know any woman who worked. My mother and all of her friends were housewives. I was the editor of my high school paper. I started working on short stories the way kids do. And then in school I entered a contest once and I became a teen columnist for a woman's magazine. And then I was working on the school paper, and I just found it interesting, mostly from a writing point of view.
And I got a summer job on the Niagara Falls Gazette and I thought it was fantastic and romantic. And then there was my role model, and that was Brenda Starr. She was gorgeous and she got great men. Brenda Starr loomed large in my life. You take your role models where you can get them.
Q: When did you first think about writing about personal finance?
A: That was serendipity, which so much of life is. I knew I wanted to be a reporter and came to New York and got a job at Newsweek. In those days, they hired bright young women to run the mail and bring young men to train as reporters. And then I got promoted to the clip desk, and then you went into research. I was pretty dumb because I had assumed, wrongly, that even though I didn't know any woman who worked, it was choice. And that if you wanted to work, you could. When I came out into the real world and discovered discrimination against women, I was shocked. I had no idea. It was before the Civil Rights and Equal Pay Act.
I was at Newsweek not very long before I realized I wouldn't be anything but a researcher. There was one woman who had worked through the system with great struggle and got her self a writing job. So I started looking for another job. I found a job at The Insider's Newsletter, which was published by the late Look magazine, and it had a section for men and a section for women. We were covering the rising consumer movement of the 1960s. One of our writers was Ralph Nader before he wrote Unsafe at any speed. But no one wanted to write the money stories, so I got elected and found the interesting. A friend at Look suggested I read the American Banker to find good stories. And I got just more and more interested in the subject. I was put there by default, but if I hadn't been interested I wouldn't have stayed there. But I found the subject fascinating. And one thing followed another. And at one point, Business Week wanted to start a newsletter on personal finance, and they hired me to start this newsletter. And by that point, I was totally personal finance.
Q: What was your perception then of people's needs related to personal finance?
A: It was much more of a policy thing. People didn't have a lot of huge choice to make in their lives other than investing, and that was the upper demographic. Those were the people I was writing for at Business Week. At the Insider's Newsletter, it was very much policy stuff. It was where they were trying to pass the bill to require lenders to disclose the annual percentage rate on loans. It was that kind of story. There was a little bit of personal finance. But it was more what are they telling you and are you getting ripped off.
Q: Has that changed any compared to people's personal finance needs today?
A: Today, everyone is responsible for themselves. You've got to make financial choices. If you make bad ones, it's too bad, you should have known better than to buy that mutual fund. This is an era where people absolutely must have knowledge of personal finance and an area where people are still easily mistaken. A lot of money gets lost all the time. If everybody were interested in becoming a financial analyst, they would be working for Fidelity or T. Rowe Price. The idea that we need to be financial geniuses on the side is terrible, but it's the reality.
Q: How easy was it for you to pick up on personal finance jargon and find interesting stories?
A: It was remarkably easy if you get interested in something. And as a reporter, you are privileged because you can call Milton Friedman and spend an hour on the phone with him discussing the money supply and you don't have to pay tuition. You ask them for explanations, and they are quite patient. Financial people back then were grateful to be noticed. Even when I was calling from a newsletter nobody had ever heard of, they were very patient. I think people are grateful when attention is paid to try to get it right.
Q: Who were important mentors to you at the beginning of your career?
A: Life wasn't full of mentors for women, I have to say. The woman who was editor of the woman's section, Lois Benjamin, of The Insider's Newsletter, was a working mother with two children. And when I found myself pregnant, and those were the days when they fired you when you started to show, she went to bat for me, and she was the first working mother I had ever known. That was a tremendous boost for me because she showed me it was possible. I observed that it was possible, and it made a huge difference in my life. And she preserved my job because there was no such thing as maternity leave.
Q: How much influence was it on your career that there was another woman, Sylvia Porter, who had become well-known in personal finance writing?
A: Sylvia was the first person to do it, and Sylvia had to initially write her column under her initials. Who would take advice from a woman? I don't think I thought about her at all because I was in the newsletter business and not the newspaper column business. But when the Washington Post asked me to start a column, I was absolutely aware of her because she was the competition. But she was the pioneer. They asked me if I would mind going by my initials so nobody would know. Once again, financial advice from a woman was not thought to be as good as financial advice from a man, and I knew that. I agreed, but I had a proviso that everybody had to go by their initials. I thought of that very much when I remembered S. F. Porter.
Q: How do you explain personal finance in a way that the average reader can understand what you're writing about?
A: That's what I work the hardest at. I rewrite and rewrite and rewrite. I don't just sit down and write it. I'm a very slow writer, and I squeeze out the words. I will pull back a sentence and ask myself if it's clear. There's a lot of blood behind the keyboard before you see the finished work. You're not doing all of the details that would confuse the readers, but you're including the salient details. And you're using enough explanation to make the experts happy. It's a very fine line. You're talking 900 words for my Newsweek column, so you also have to get the structure right.
Q: What personal finance or business writers do you read and why?
A: I read everything. I read in the Times. I read Money magazine. I read Kiplinger. I read the Wall Street Journal. I read any personal finance story that comes up. I don't look particularly look for a particularly person other than Krugman, but I'm trying to read everything about personal finance in the world to see what everybody else is talking about.
Q: In 1992, you told an audience at Fordham that the best personal finance magazine was Kiplinger's. Is that still your assessment, and why?
A: I love it. What can I say? It's so down to earth. I just think it's a really clear, solid magazine. I think Money magazine in its latest incarnation is very good. In the go-go years, Money was doing fantastically well with "Triple your Money" covers, but that did not suit my temperament. It now addresses itself more broadly for consumer needs.
Q: Did personal finance journalism go overboard in the 1990s by giving its readers things like lists of the top 10 stocks to invest in?
A: Sure. I was a huge critic of that. I used to call it "financial pornography." I think I was the first person to use that term. I do think that I was helpful in getting the magazines to run updates on their recommendations. It was Smart Money and Money that went back and looked at how they did. It wasn't done before I started writing about it. I think it's very important. Accountability is a problem when you're running a magazine because people want to see 10 stocks to buy now because all you really need is an index fund. Investing is a game of odds, and those are the best odds. 10 stocks to buy now is a waste of my time. But when I was kid doing the Business Week newsletter, I called up mutual fund managers and they would explain to me about this stock or that stock. But you spend a couple of years looking at the results, and you say there's something a little off. You can't play individual stocks.
Q: What do you see happening in the future of business and personal finance journalism?
A: It will be more important than ever with the boomers retiring. The boomers who have run my life and everybody else's life, we've been going through the accumulation phase, and the bulk still are in the accumulation phase. But the first boomers are starting to look at the maintenance phase and the drawing down phase. When you're 65 or 70 and you have a fixed pot, and you have to figure out how to make the money last, that's hard. If you make a mistake like putting your stock in WorldCom, you're facing a whole different kind of world. It's going to be bigger than ever.
Q: If you succeeded Sylvia Porter as the most famous personal finance writer, who do you see becoming the next Jane Bryant Quinn?
A: There are so many people doing this now that it's very hard. There are so many outlets. Jean Chatzky at Money does a great job, and she's also on NBC. Television gives you a lot of exposure. It also depends on the types of outlets you get into. I was doing all three – magazines, the newspapers and books – so you had a hard time getting away from me. Jean, I think, she is very good. But there are other people.