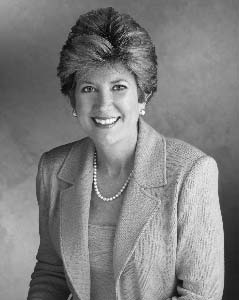 Linda O'Bryon is the senior vice president and general manager of NBR Enterprises/WPBT2, which produces Nightly Business Report, seen nationally on more than 250 public television stations.
Nightly Business Report has been credited for spawning the genre of daily business news on television. O'Bryon was the program's original co-anchor, a position she held for 12 years, before taking on additional management responsibilities. As general manager of NBR Enterprises, she oversees Nightly Business Report's editorial, marketing and business operations. O'Bryon supervises a staff of 45, across four bureaus in Miami, New York, Washington and Chicago.
In addition to producing 260 daily news programs a year and a daily news brief, NBR Enterprises has developed 16 personal finance and investment videotapes and DVDs, produced numerous public television pledge specials as well as individual documentary programs. The division also oversees international licensing of Nightly Business Report, a business news web-site, and video production projects with textbook publishers such as Wiley and Houghton Mifflin and The Wharton School of Business at University of Pennsylvania.
During her years with the program, O'Bryon has interviewed numerous business and government leaders, such as Warren Buffett, Jimmy Carter, Jack Welch, and Bill Gates. She has co-anchored four prime-time specials on national public television: Keeping America #1, The Next American Century (with Fortune), The Economics of War and How to Survive and Prosper in the World Financial Crisis (with Adam Smith.)
A journalism major from the University of Miami, O'Bryon began her career as an on-air reporter for KCPX in Salt Lake City, and she was also a producer for WPLG, an ABC affiliate in Miami.
Her career has led to numerous awards. She was named one of the 20th century's top 100 business news luminaries by industry newsletter TJFR. And in 2004, O'Bryon received the Distinguished Achievement Award by the Society of American Business Editors and Writers at the 41st annual conference in Fort Worth, Texas.
On Wednesday, Feb. 22, 2006, O'Bryon discussed her career with UNC-Chapel Hill journalism professor Chris Roush. What follows is an edited transcript.
Q: Why were you interested in journalism as a college student?
A: I was at the University of Miami as a biology major. I don't know if it was the math or what, but I preferred English. I liked to write and report, and I was a junior when I switched over to the journalism department and it was a great move. It was an opportunity to use the skills that I enjoyed. I was the featured editor of the Miami Hurricane, the student newspaper. I remember a couple of early stories. There was a man I interviewed who was 100 years old. He said, "If you don't get this right, I'm going to come back and haunt you." There were a lot of features stories. I did a feature on a doctor who had a water diet. And then I interned at the Miami News my senior year. It was a great immersion into print journalism
Q: Few journalism majors also minor in economics. What was your incentive?
A: I had always liked the subject. I grew up in Washington, D.C., and we always talked about the economy and the stock market and politics. My grandmother was a small investor, and she loved to talk about it. That exposure at an early age led me to enjoy learning about it. I defined economics broadly.
Q: What type of business stories did you cover on your first job in Salt Lake City?
A: I covered a lot of city and county stories. This was the early 1970s, and there were a lot of stories of development vs. environment. I covered stories like that, but not the business beat per se. I covered prisons and statewide initiatives, Congressional elections, all kinds of stories.
Q: Were you interested in covering business at the time?
A: Not at the time. I was more interested in general assignment reporting. I hadn't thought about focusing on one area. And if I had to do it over again, I wouldn't change, because when I specialized, it was a great opportunity to focus in on one subject. I believe that today. You learn so much and get a body of knowledge.
Q: How did you get back to Miami?
A: My husband was a broadcast journalism major, and he went to work for the Miami Herald right out of college. We sort of flipped. He stayed with print journalism. I had been working at the Salt Lake station for two years, and we decided to get married, and decided that Miami had more options. I then went to work for the ABC affiliate in Miami.
Q: How did Nightly Business Report get off the ground?
A: It was actually in 1978, and I was news director at the time. We had covered a lot of trials and interesting things at the time. I was on maternity leave with my daughter, and my boss asked me to come back a little early because they wanted to have a meeting. They discussed this new concept. I was given this opportunity to develop the format, get the staff together, and really create from nothing a daily program. It was a big effort because the station had never produced a program on a daily basis. So it was the combination of getting that all together and focusing on the subject of business and getting the staff and format and deciding who was going to host it. I was called back in October, and we did a pilot every day in December and started in January. I was, at first, producing it because we didn't have the staff. Then I was co-anchoring it. So it was a little bit tough. In those days we had two co-anchors and a stock commentator, and that was the format. It started out as 15 minutes, and we thought that would be difficult to fill.
Q: What was the reaction from the other public television stations when it was offered to them?
A: It was pretty good. The WPBT program manager was very encouraging. He and I went to Chicago and made a presentation to a group of programmers. Right away there was a positive response. It was a good idea. It was very well received. When we went national in 1981, we started on 125 stations, which was really good for a brand new program that had been running locally. But that meant a broader scope and getting national commentators. I think it was from the beginning well received. Now, we're on about 250 stations.
Q: How hard was it to get business people to come talk on the show?
A: It was hard and some of it was because it was television. In the early days, when we were a local program, it was often hard to interview CEOs. They were used to a print situation.They didn't like a camera and lights. We had to do a lot of convincing. We had to explain that we were going to ask questions that were tough but fair. We just little by little gained ground. When we went national, I thought it important that we development some national commentators to give analysis to the program. One of the first people I called was Alan Greenspan, and he agreed. He was the first commentator on the first national show on Oct. 19, 1981. He stayed with us until he became Fed chief.
Q: Why was a business news show on television relevant at the time?
A: We used to do community leader interviews as part of our broadcast efforts, and at that time, the late 1970s, the economy kept coming up as the No. 1 issue. We had problems with inflation, volatile interest rates, the oil shocks, and nobody was doing any kind of daily programming on these issues. We looked at it broadly from business, the economy and investing. No one was doing it. The timing proved to be right. There were too many people at the time in television who didn't think it was a topic you could cover on television. It was too difficult to visualize. We thought we would change that. We had a great graphics department, and we would look for ways to visualize stories. If it was a merger, we would show logos. One of the things that really helped us was that the technology was changing. It meant that reporters had to work harder and think of the visual.
Q: What do you think have been the best stories on the show, and why?
A: That's a hard one. If I look at the most recent year, we won our first national Emmy for a story on China. We had a crew go to China for three weeks and cover what's happening with the economy in the cities and in rural areas, and another crew in Washington and New York cover the trade relationships between the U.S. and China. NBR's China coverage would certainly be one of the best efforts. Another that comes to mind is a half-hour show about two years before Enron broke on the potential for manipulating corporate earnings. It was a very early look at those issues. We were very ahead on that story.
Another one that always strikes me from the 1990s was a woman named Edna Hayes who retired and took her pension money and put it into a bank instead of a tax-deferred retirement plan. The report showed that she was trying to pay the IRS back for a year in back taxes and interest and was unable to and now owed back fines. A viewer was so moved by the story that she anonymously wrote the check. The reason I remember that story is that it shows what media can do and move people. That was one example. Hopefully what we do in day in day out helps people. That's what I am most proud about.
Q: What interviews on the show have broken ground?
A: Certainly with the China series, there were some groundbreaking interviews in that they represented the first time that these individuals had been interviewed on television. We had the head of Lenovo after its takeover of IBM's PC division. We've had some wonderful interviews with CEOs over the years. It's just so hard to pick one out. It's where television really works.
I interviewed Jack Welch at a time when there were rumors that NBC would be spun off. And right before, Ted Turner had given a speech across the street and said that he had a deal to buy NBC. I mentioned that to Jack Welch, who refuted the statement, and there was a look on his face. It was just such a candid moment. There were some CEOs who might have hedged, but it spoke volumes to me about what you could see on camera.
Q: Do you think that business journalism on television doesn't get the respect that it deserves?
A: There is so much business news on the Internet now, and it is readily available. I think business news gets the respect when it does a good job, when there is good story telling and visuals. But if it's done in a way that's just sort of repeating wire stories and numbers, and it's not doing the job that television was meant to do. To the extent that a news organization can tell good stories, it's going to get good respect.
Business news in general has come into its own. In the late 1970s, it was not the beat that most reporters wanted.
Q: How did you learn about business issues and topics?
A: Going back to my early days, just listening to my grandmother. I always sort of had that in the back of my mind. My cousin is in the financial world in New York. So I guess through family exposure, that was a start. And then when we started the program, I just immersed myself. That was about the time that Larry Birger started Business Monday at the Miami Herald. You just have to totally get into the subject and research it. Every interview I do is a lot of research.
Q: Where do you see business journalism on TV and in print heading in the future?
A: I think the technology is just the biggest driver. The fact that you can access information instantly, you can get it on your cell phone. I think those things will continue to grow. In television's case, there will always be an important role for business news. People want to see information compiled in one source and not have to gather it, to see good stories and to get ideas from the visual part of it. I think that will continue. I think there will be a lot of connections. You may hear a short segment and then want to read it in the newspaper. We've talked so long about convergence, and I feel that we are there.
Q: What advice would you give to someone interested in a career in business journalism?
A: Definitely study about business. That is really important. But get a good liberal arts background. There is some critical decision making that you need to know about. You need to know how to write. Literature is important. For the journalism part, I wish I had done a double major of taking journalism courses and interning. They are the tools that you need to write for a newspaper or television. Get a large dose of business with a good liberal arts background.